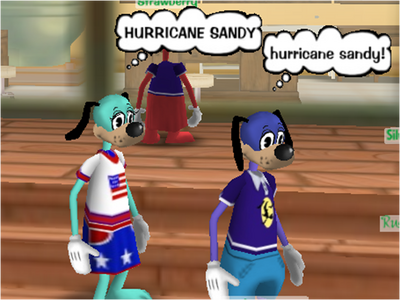 Disney's Toontown Online (commonly known as simply Toontown) is a massively multiplayer online role-playing game created by The Walt Disney Company and billed as the first such game intended for kids and families.[3] Played mostly by older children and adults,[4] the depth of the game's content has drawn in many older players.[5] Toontown's 3D virtual world takes its theme from the colorful style and humor of classic animated cartoons, packaged into an online game experience that its authors claim is social and kid-safe.[6] The game was rated "E" (Everyone) by the ESRB for "Cartoon Violence" and "Comic Mischief".[7] In simple battles, any Toon can walk in on the battle and participate, provided there aren't already four Toons doing so. For building and boss battles, the boss battles held inside Cog HQs (permanent Cog headquarters), the participating Toons must all enter at the same time, after which the building is sealed until the battle ends. Players can also purchase "doodles", virtual pets the player can name and train to do various tricks. Trick phrases are purchased from the Cattlelog to be taught to the doodle. Doodles help restore a Toon's Laff points when told to do a trick. They can also be called forth during a battle using the SOS button to raise you and your team mate(s)' Laff.
Ad blocker interference detected!
Wikia is a free-to-use site that makes money from advertising. We have a modified experience for viewers using ad blockers

Wikia is not accessible if you've made further modifications. Remove the custom ad blocker rule(s) and the page will load as expected.