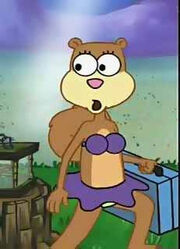 Sandy Cheeks is a main character in the series SpongeBob SquarePants and is voiced by Carolyn Lawrence. She is a squirrel native to Texas,[1][2] and the fact of her being a land animal is often pointed out. She is friends with Patrick, and SpongeBob.[3]
Sandy, a major character in many of the early episodes of the series, has seen her role somewhat reduced to fewer appearances in subsequent seasons, although she has large roles in the episodes in which she appears.
Ad blocker interference detected!
Wikia is a free-to-use site that makes money from advertising. We have a modified experience for viewers using ad blockers

Wikia is not accessible if you've made further modifications. Remove the custom ad blocker rule(s) and the page will load as expected.