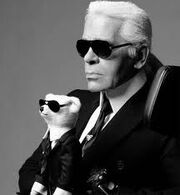 Karl Lagerfeld (born Karl Otto Lagerfeldt; 10 September 1933) is a German fashion designer, artist and photographer based in Paris. He has collaborated on a variety of fashion and art related projects, most notably as head designer and creative director for the fashion house Chanel. Lagerfeld has his own label fashion house, as well as the Italian house Fendi.
Lagerfeld was born in Hamburg. He has claimed he was born in 1938, by Elisabeth (born Bahlman) and his Swedish father Otto Lagerfeldt.[5] He is known to insist that no-one knows his real birth date: Interviewed on French television in February 2009, Lagerfeld said that he was "born neither in 1933 nor 1938."[6] His older sister, Martha Christiane (a.k.a. Christel), was born in 1931. Lagerfeld also has an older half-sister, Thea, from his father's first marriage. His original name was Lagerfeldt (with a "t"), but he later changed it to Lagerfeld as "it sounds more commercial."[7]
Lagerfeld grew up as the son of a wealthy businessman from Hamburg who was introducing condensed milk. His family was mainly shielded from the deprivations of world war two due to his father's business interests. (Glücksklee-Milch GmbH) to Germany;[8][9]his mother is from Berlin.[10] According to Alicia Drake, Lagerfeld's mother, Elisabeth Bahlmann, was a lingerie saleswoman in Berlin when she met her husband and married him in 1930.
After attending a private school, Lagerfeld finished his secondary education at the Lycée Montaigne in Paris, where he majored in drawing and history.[11]